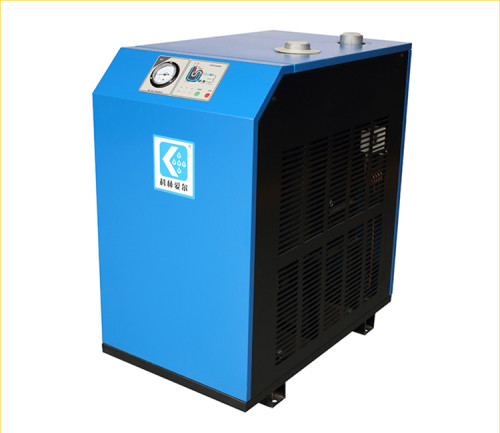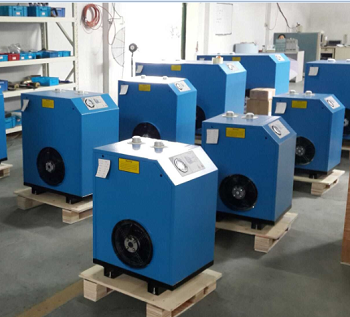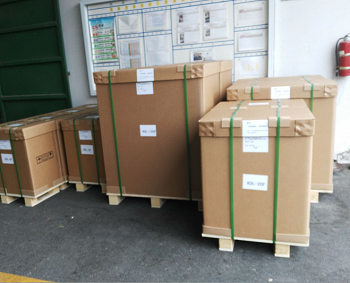 R134a small refrigerated Air Dryer KDL-10F (56cfm) for 10hp compressor
Item specifics
Cooling type

Air cooled
Refrigerant

R134a,R407c,R410a
Evaproator

Plate heat exchanger
Max inlet temperature

45°C
Ambient temperature

40°C
Dew point

2-10°C
Working pressure

7-10Bar
Voltage

220V/50Hz
L*W*H(mm)

500*415*680
Weight

45kg
Description
KL KDL series are energy saving andenvironment friendly type refrigerated air dryer. It adapts Aluminum plate heatexchanger, mixed the pre-cooled regenerator, evaporator,gas-water separatorinto one. It improves 20% heat exchange efficient compared to other exchanger,then to reach 2-10°C dew point with less consumption along with low maintenance coststo operate.
All-in-one aluminum plate heatexchanger
KDL series refrigeration air dryer is adopted with all-in-onealuminum plate heat exchanger. The air-to-air heat exchanger,air-to-refrigerantheat exchanger (evaporator) and demisterseparator are housed in one aluminum module. It pre-cools the incoming airusing the cold air exiting the refrigerant section. It then final cools the airin the refrigerant section at which point the air stream enters a separationchamber to allow the condensed moisture to fall out. Since the air is reheatedin the regeneration section, the final humidity remains below 25%.
Eco-friendly refrigerant compressor
Each KDL air dryer is equipped with R407C orR134a refrigerant compressor. Scroll compressor offering energy savings of 20-30% when compared with piston compressors. The ability to tolerate liquidreturns coupled with 50% less moving parts render them nearly indestructibleand highly reliable.
Hot-gas by-pass valve
Each model of KDL air dryer is installedwith hot-gas by-pass valve which prevents the freezing inside the evaporator atany load condition. The valve is set during final test and no furtheradjustments are necessary.
KDL series :
Max inlet temperature:45oC
ambient temperature≤40oC
working pressure:7-10Bar
DEE-POINT TEM:2-10oC
Comprehensive presentation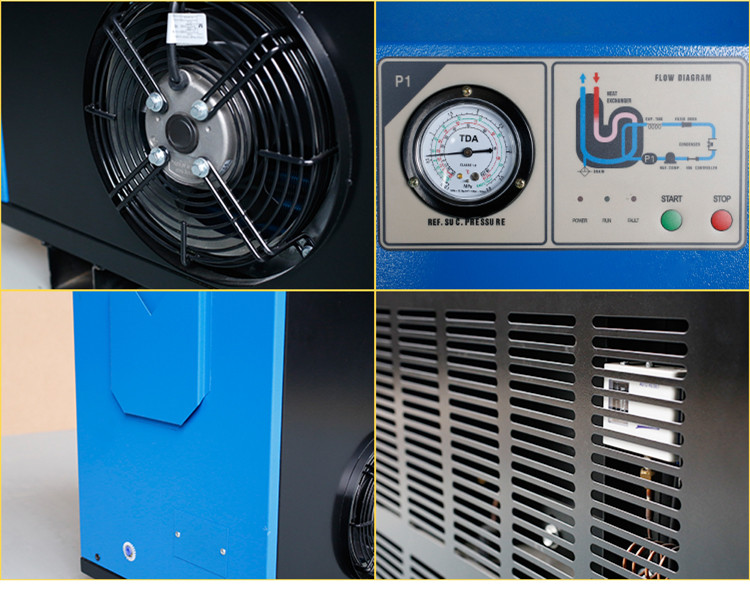 Specifications

Model
Flow Capacity
Power Cons.(kw)
Conn.
Dimensions
Weight
m3/min
m3/h
CFM
(BSP)
L (mm)
W(mm)
H (mm)
(kg)
KDL-10F
1.6
96
56
0.47
1"
500
415
680
45
KDL-20F
2.6
156
92
0.85
1"
630
450
790
50
KDL-30F
3.8
228
134
1.04
1"
630
450
790
55
KDL-50F
6
360
212
1.65
1 1/2"
770
530
890
70
KDL-60F
7
420
247
1.65
1 1/2"
820
530
890
80
KDL-75F
8.5
510
300
1.67
1 1/2"
870
580
890
90
KDL-100F
11.5
690
406
2.05
2"
1180
580
870
120
KDL-120F
13.5
810
476
2.3
2"
950
730
1130
140